These days almost everything around us is made from plastic. It is not only a durable material, but recyclable and cost effective too. Yet when it comes to your front door, is it really the safest option?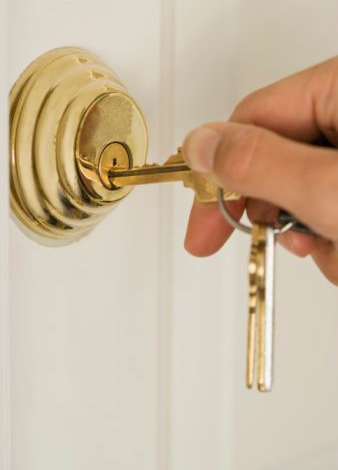 From an exterior view, a uPVC door can appear to be a strong and an aesthetically pleasing addition to any home. But after identifying the poor quality components that make up all uPVC doors, it is not as secure as many would like to think. This is because both polystyrene and MDF lay in between the two very thin layers of plastic panels, which comprise of a large percentage of the door. There is a multi-point locking system to the door that is always marketed as a strong selling feature, although the Euro cylinder lock can easily be picked or bumped. The system sits on the perimeter of the door, yet still only has one lock that can disable all of the other points, leaving your front door open for unwanted intruders to have access to your home. This means that it doesn't make a difference if the door is double locked or not as the door itself is not secure.
Are wooden doors safe?
Depending on the quality, thickness and age of the wood used for your front door, wooden doors are generally a lot safer than uPVC doors due to their capacity to have various locks and security systems applied, this in turn provides a higher level of home security to prevent intruders. Just some of the security systems and locking systems that can be applied can include:
Night Latch and Rim Cylinder
5 Lever British Standard Insurance Approved Mortice Lock
Sash Jammer
Door Chain
How can I make my uPVC door more secure?
Due to the structure of uPVC doors, there are not many additional security measures available in comparison to wooden doors. Although, with the door itself holding weak properties, you could attempt to apply various lock types and sash jammers with no prevail, due to the door itself being easy to break into. There are a few precautions that can be made when considering the security of your front or back door, including:
Upgrading your euro cylinder lock to a high security dimple key lock – aptly named, these keys appear with dimples as the locks have ball bearings inside. Banham are the most commonly known retailer that sell these locks.
Installing an anti-snap or anti-drill lock – this is to prevent unwanted visitors from attempting to snap the lock internally or drill through.
Letterbox cage – this fits to the back of the letterbox and needs a padlock in order to keep it secured.
Important security measures to remember:
Do not leave keys hanging inside the letterbox or under doormats, as these are the first places a burglar will check.
If additional security measures are being undertaken, firstly it is important to ensure that the doors any locks are fitted to are secure and any rotting woodwork is replaced.
If you are taking measures to apply additional security, be wary of how this may affect your ability to exit the property in an emergency.
For more information about home security, and preventative measures that can be undertaken, head to the BBC Crimewatch Roadshow website here.