As from the 1st October 2015, landlords are required by law to install both smoke and carbon monoxide alarms on every story of a property.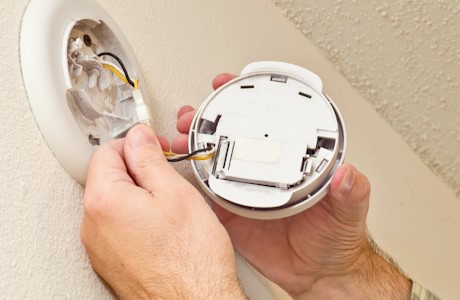 The law was originally announced back in March by Housing Minister Brandon Lewis, in a bid to reduce the number of carbon monoxide related issues. The existing records of 36 deaths and 1,375 injuries a year could be prevented by the installation of a carbon monoxide alarm. There are no excuses for landlords that fail to adhere to the new law, as grant funding from the government now allows property owners to claim free alarms. There is no grace period, those that fail to comply with the new regulations will face penalty of up to £5,000.
The requirements that have been set by Brandon Lewis consist of smoke detectors being fitted on every story of a property, in addition to a carbon monoxide detector being present in every room that has a solid fuel appliance installed. Both alarms must be in full working order and tested at the beginning of each tenancy period.
In order to make a consumer aware of carbon monoxide leakage and prevent injury or death, carbon monoxide alarms are essential. The highly poisonous substance is cause by incomplete burning of gas and Liquid Petroleum Gas (LPG). Carbon Monoxide has no taste or smell, with symptoms often very similar to that of flu or viral infections, resulting in the presence of carbon monoxide often going unnoticed, therefore known as the silent killer. Being aware of these symptoms and having a carbon monoxide alarm in your property could save your life.
The Residential Landlords Association (RLA) have included the following information about the requirements: 'The Regulations do not stipulate what kind of alarm is required. Ideally it should be a hard wired alarm system. It can, however, be a single standalone alarm. Landlords are recommended by the RLA to fit ten year long life tamper proof alarms, otherwise there is a problem with batteries being taken out and not being replaced.'
Many domestic home owners have already adopted these regulations anyway, with reports that 90% of homes today have a smoke alarm fitted, in comparison to the insufficient 8% recorded in 1988. However, it is hoped that this new regulation will remind home owners about the dangers of carbon monoxide, and with some CO alarms on the market at the inexpensive cost of just £20.00 to potentially save lives, it is extremely important that every home owner owns one.
For more information about the dangers of carbon monoxide poisoning, visit the Gas Safe Register website here.